How to put together a puzzle in a frame without gluing?
How can puzzles be framed without using glue? With our special frame, which we precisely invented because of the frustration of puzzle glue, it goes easily.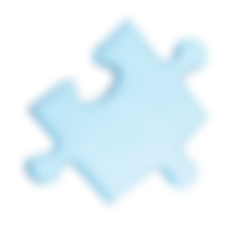 We enjoy putting the puzzles together so much that locking them in a frame forever would be a big mistake! Puzzles are above all to play and have fun.
| | Pucle without a frame | Pucle with a [frame] [rámom] |
| --- | --- | --- |
| Cardboard tube* | | |
| Cotton bag full of puzzle | | |
| Smart puzzler's handbook with an illustration | | |
| Beech massif puzzle frame | | |
| Connecting component for the frame | | |
| Recycled puzzle mat | | |
| Protective film for the puzzle | | |
*Get 5% off for your next order for returning the tube. How does that work? How does it work?
Our artistic illustrations are really looking forward to hanging on your wall or sitting on your shelf.
You can choose from a variety of themes from our illustrators. All illustrations are unique creations by skillful artists.
Puzzle with or without frame
Puzzle with a frame available in 100, 200, 500 and 1 000 puzzle pieces.
The size of the 100, 200 and 500 piece puzzles is 33 x 47 cm.
The overall dimension remains the same and only the size of the puzzle pieces changes.
The size of a framed puzzle is 68×49 cm.
The size of the 1000 piece puzzle is 66 x 47cm and the framed ones are 69 x 50 cm.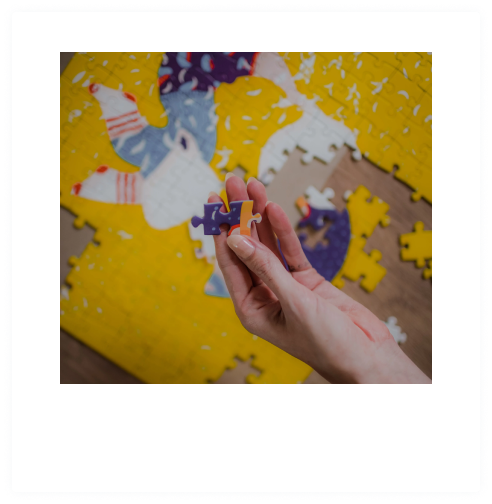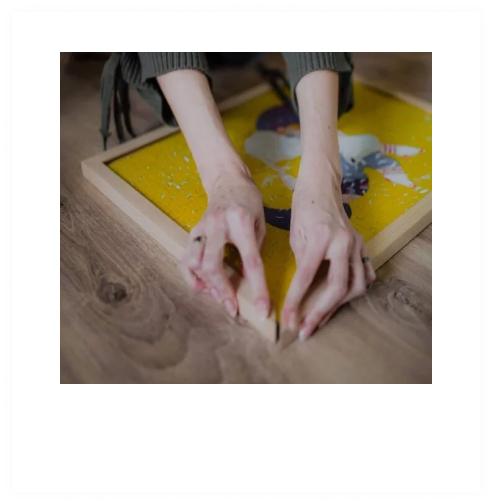 Hooray! Done! And what now?
Pucle with a frame
First of all, you should have lots of fun putting the puzzle together on the recycled mat, which is included in the box with the frame 🙂
What to do after putting the puzzle together?
Cover the puzzle with protective foil, matte side up.
Then you connect the parts of the frame in the corners and insert the puzzle on the mat covered with the foil into the frame rail, just like in the video tutorial.
The smart puzzler's handbook will guide you through each framing step and also includes a large image of your chosen illustration to assist you with puzzling itself.
We managed to create a patent, thanks to which you can put together the frame without gluing and hang the puzzle wherever you decide. You can do and undo the Puzzle as many times as you wish to. Enjoy this never-ending puzzling fun!
How is it possible?
When were in the phase of dreaming of a beautifully illustrated puzzle, it was originally supposed to be just an ordinary puzzle. But we felt sorry for that the puzzles would be hidden in the box again after being put together, or stuck with puzzle glue.
That's why we invented a wooden frame that holds the puzzle together without sticking.
All you need is a recycled mat, a top film, 4 pieces of solid wood
and tightening components. And that's how Pucle was born. A game that is also a beautiful design accessory.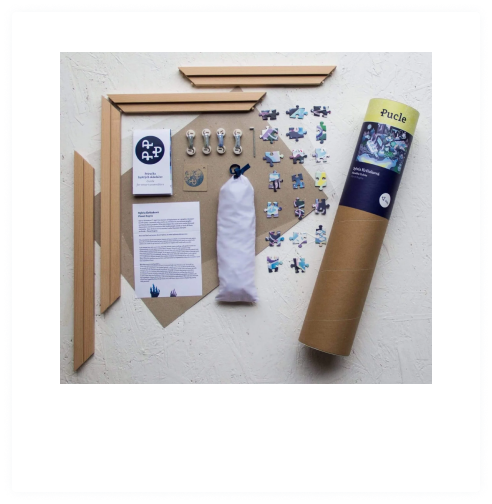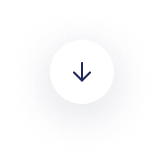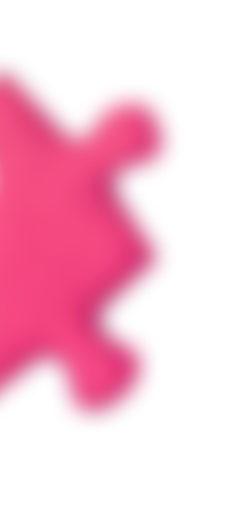 If you want to please your employees or partners with a creative gift, together we will come up with the best one. Get in touch with us!
"The Puzzle arose from the desire to make something beautiful and mind-boggling while also opening up the world of art and design in a new way."