How our Puzzle idea came across?
We are Lenka and Baša, and we know each other from the times when we paid for beer in Slovak crowns, and when board games were the last thing on our minds on Friday evenings.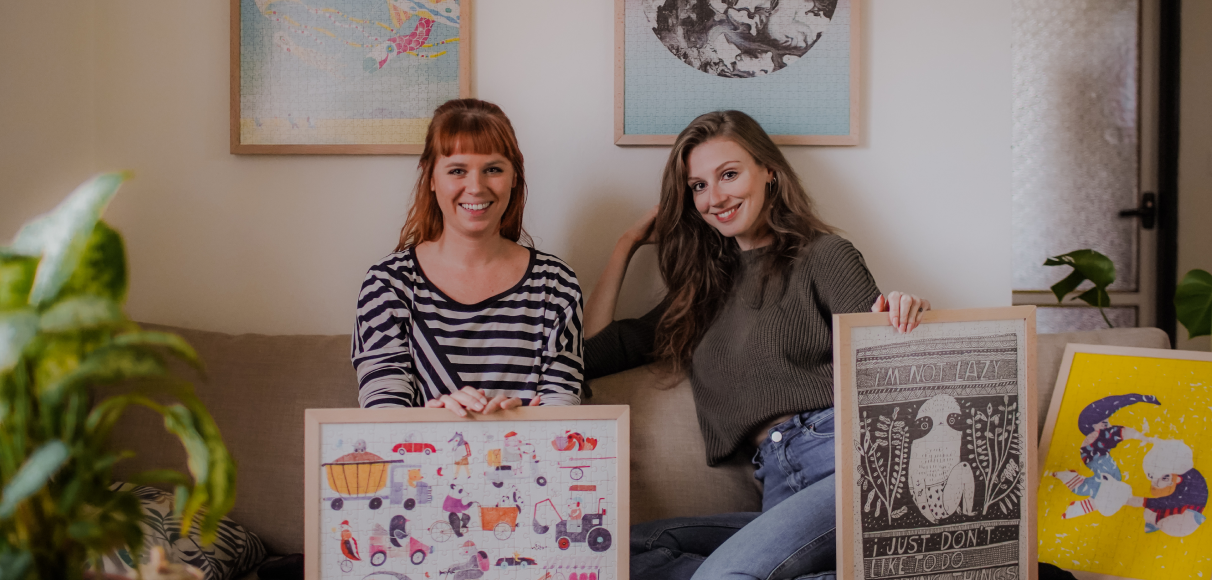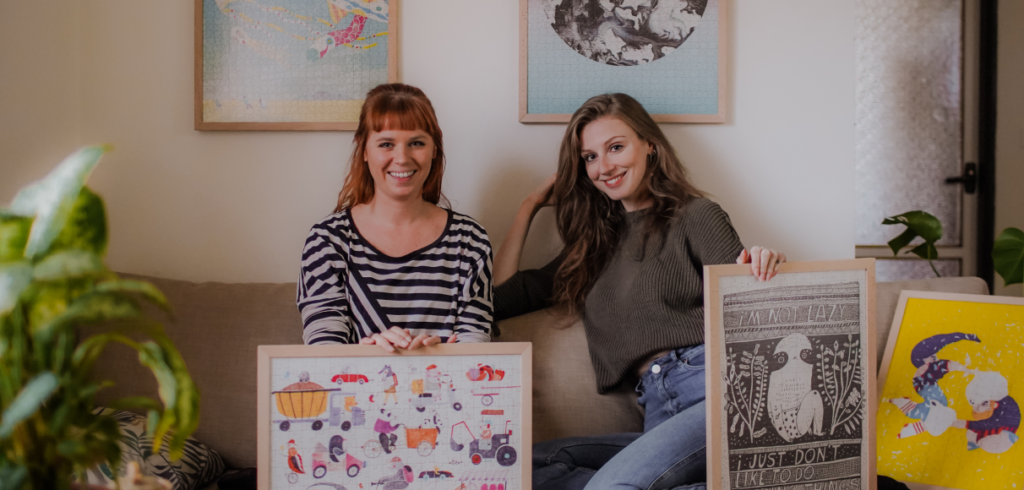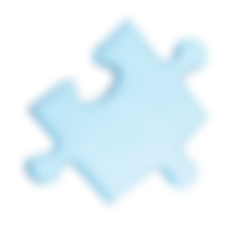 Baša from Pucle & Lenka from Pucle
We know each other from the days when we paid for beer with Slovak crowns, and when board games were the last thing on our minds on Friday evenings. In the meantime, we have grown up and during our happy study youth, we managed to successfully finish the universities on the first try – one in art and the other in marketing.
Despite different destinations, world continents, diverse boyfriends and fiduciary flat rents, we had built a deep friendship with infinite respect to each other.
The Pucle project was created at a time when we were both at a crossroad in our lives. In a cluster of family problems, breakups, undecided decisions about life and its direction, at some point (fortunately and perhaps thanks to being together) a light bulb lit in our heads and we got an idea. We invented Pucle.
We are both programmed for a certain kind of creative work, and the lack of options bothered us.
At the same time the underappreciation of creativity in our country. Puzzle seemed to be an excellent way to start solving this problem. That's why we decided to take the matter into our own hands. Puzzle is a wonderful game from our point of view and they do deserve better themes than the ones we usually see on puzzles in stores. Instead of the images we were all used to, we decided to give them a breath of fresh air and reached out to creative illustrators and artists. And we took it even further…
After a few rough prototypes, we managed to come up with a special wooden frame for the puzzle, thanks to which the puzzles do not need to be glued, but can simply be hung on the wall as an interior accessory. And at any time to be broken and played with them again. Thanks to this, we managed to rise the game to a design experience.
Thanks to this, we managed to rise the game to a design experience.
Pucle was born out of a desire to do something beautiful and mind blowing.
From the desire to open up the world of art and design in a new way, through the illustrations of Slovak authors we give a new visual to the ancient game and playfully bring art into homes and interiors.
In addition, puzzles are also very beneficial for the development and training of the brain, they can be used as an active meditation and we also like to call them yoga for the brain. They work as a prevention against the Alzheimer's disease and fine motor skills can be excellently trained with them.
The main element of the Pucle is a graphic motif from excellent Slovak illustrators and artists, which we print on recycled puzzles and place in handmade massive wooden frames.
We are pleased to bring a product that works on the principle of an eternal puzzle.
Pucles can be easily done, undone, hung and unhung at any time without gluing anything. The playful form not only entertains, but also opens a dialogue about culture in our homes. Puzzle is not just a game for us, the educational and informative element they contain is very important. It is a balanced mix of beautiful, smart and playful.
So, will you come and play with us?
If you want to please your employees or partners with a creative gift, together we will come up with the best one. Get in touch with us!
Transform your art to the puzzle. Contact us 👋